My 2022 Workstation Setup
Thought I'd document my home PC setup. This is my setup going into 2022: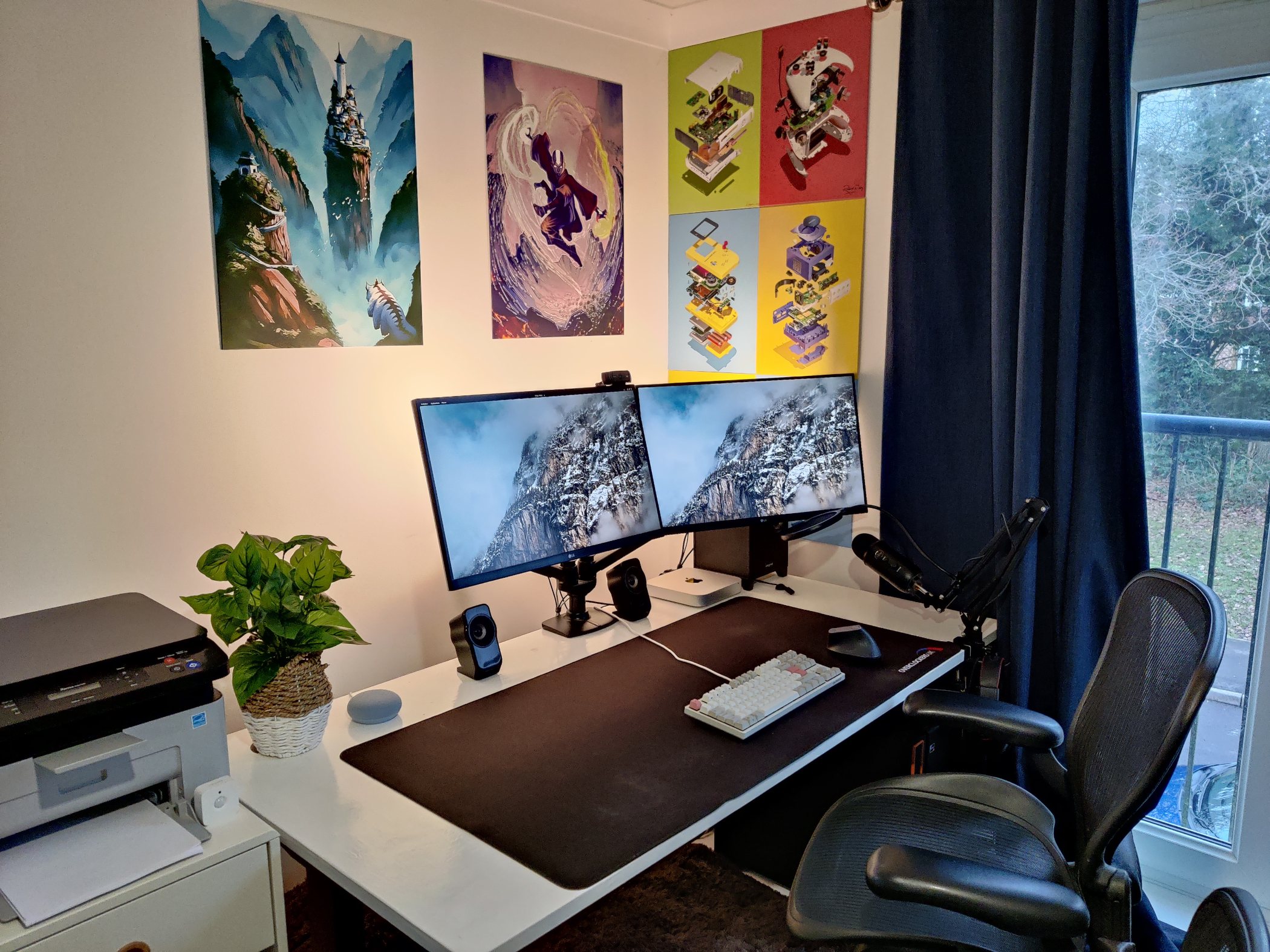 Nerd Corner
This is the one part of my home that I dedicate to being a "nerd corner" as can be seen by the "Avatar: The Last Airbender" posters in addition to the exploded-view console posters. By default this corner is a bit dark so two Phillips Hue Play lights, attached to the back of the monitors, throw light onto the back walls. The colours of these change depending on time of day and PC status (Controlled via home assistant).
Monitors
The two monitors are LG cheaper-end 4K units mounted upon a dual-arm VESA mount for placement flexibility. I very much like changing the monitor positions depending on task and neck strain.
On the Desk
Upon my desk is a plant to add some colour. It's fake since I'm terrible at keeping plants alive and to not be dangerous to my cat though she still attempts to chomp into it. Next to that is a small google home, generally used for home control. The sub and two little speakers are a standard Creative speaker kit that I've had for a while and would like to replace two better speakers, without a sub, for simplicity.
The Mac Mini on my desk is an old 2014 revision, used just for testing where needed or for grabbing a copy of MacOS when needed. The keyboard is Durgod mechanical keyboard with cherry brown switches in an old-style beige colour scheme. I prefer this keyboard over my cherry red or blue keyboards simply because it's ten-keyless leaving more room for natural mouse placement. Speaking of the mouse, it's a Logitech MX vertical which I've been using since experiencing some wrist pain. It's a pretty expensive mouse but the battery is amazing and it's helped considerably with the wrist. I do plug in a Roccat Kone XTD if gaming though since the vertical mice are a bit awkward for gameplay.
Clamped to the desk is a Blue yeti microphone that I recently got for recording BookStack guides. This has proved a massive upgrade upon my previous cheapo mic although I'm still getting used to configuring it for my voice.
Desk & Chairs
The desk itself is an old office desk worktop repainted in white, with a Flexispot motorised base attached for height adjustment to allow standing or sitting as desired. In front of the desk is my chair, a second-hand Herman-Miller Aeron that has done my very well in help easing spinal issues. After leaving my last job I have another Aeron, next to my main one, which acts as a decoy for my cat which detracts from stealing my own seat or from laying on my keyboard.
PC Build
Below the desk is my PC which has the following specs:
CPU: AMD Ryzen 5 2600 (6 core, 12 thread)
Motherboard: ASRock x470 Master SLI
GPU: AMD RX Vega64
RAM: Corsair 16GB DDR4 3200mhz
PSU: 850W Corsair RM850X
CPU Cooler: BeQuiet Dark Rock 4
Case: BeQuiet Silent Base 601
Storage: 1 NVME SSD (250GB), 4 STATA SSDs (240GB, 512GB, 1TB, 1TB)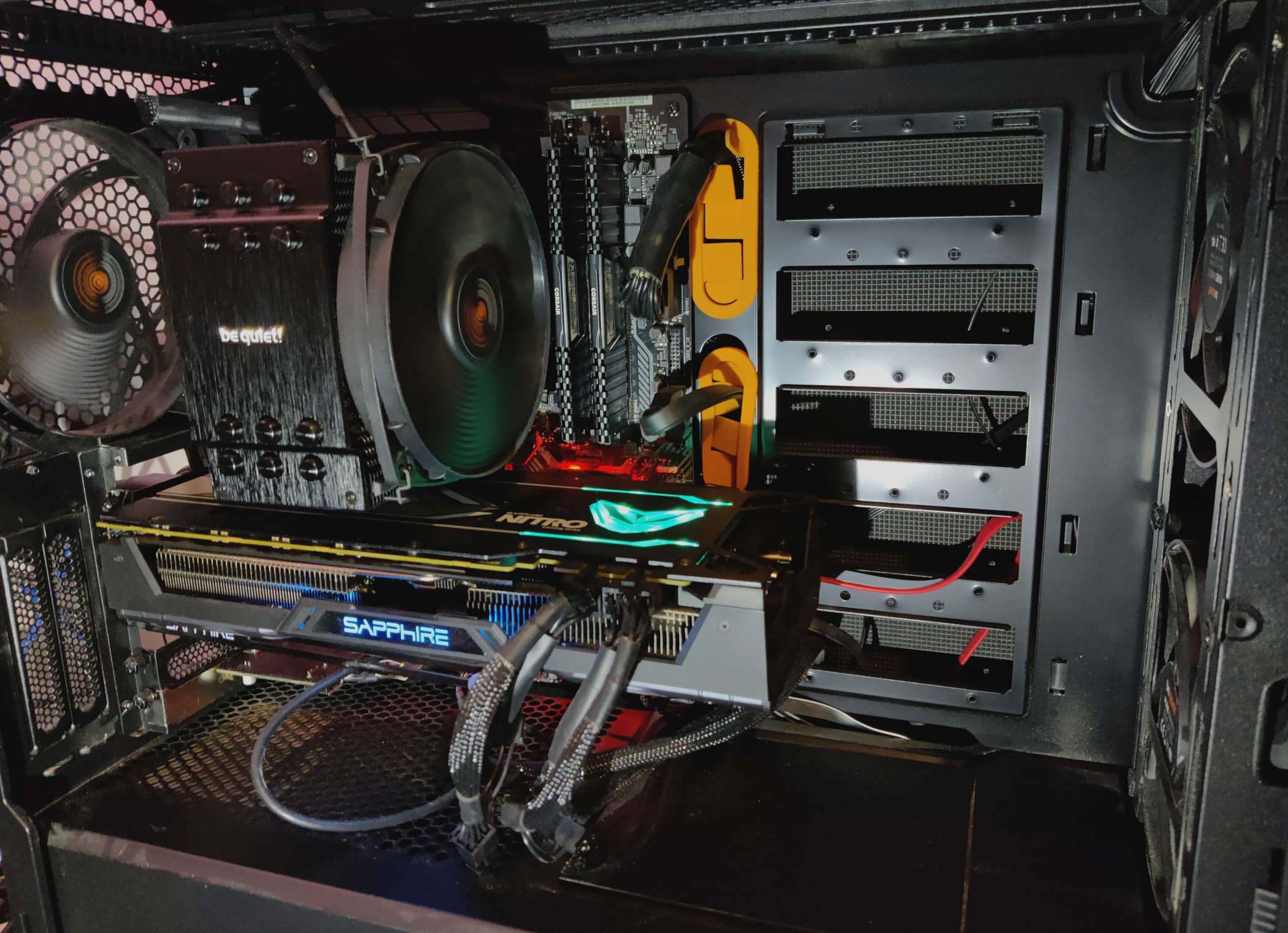 The inside isn't very pretty but the case is not windowed so it doesn't really matter. It's built with quietness and practicality in mind over looks. I often jump between operating systems with dedicated drives for each to ease management hence the SSDs which are jammed behind the motherboard tray and under the PSU shroud. This PC, built in early 2019, is generally doing me well right now. I may upgrade the CPU this year to a latter Ryzen chip to increase the PC lifetime. I would like to upgrade the GPU, to better drive the 4K monitors, but I decline to pay the current inflated GPU prices. Will instead wait for the crypto crash.
As of writing I primarily use Fedora 35 for development and general use, with Windows 11 on another disk for gaming. Fedora has done me well and provided an opportunity to learn RHEL based distro conventions but I'm getting a slight itch to move back to a Ubuntu-based install. Might get tempted to jump to Ubuntu 22.04 in a few months.